︎ Jennifer in Times Square
Self-Appointed Artist Residency in Times Sq, New York City
Originally broadcast on Instagram Stories
Exhibited at Lamar Dodd School of Art, University of Georgia
2018



In the summer of 2018, I became a self-appointed Artist in Residence on the streets of Times Square in New York City. Playing spy and citizen journalist, I wandered into unlocked buildings, eavesdropped on tourists, opened the stage door to Waitress The Musical, sang with a street entertainer, drank at the last remaining neighborhood dive bar, received reiki on a public bench, performed a daily greeting ritual with a network of public surveillance cameras, and followed an investigative rabbit hole that led to seeing to the worst and longest running Off-Broadway play of all time. This investigative report, documented daily and broadcast to my followers via Instagram Stories, culminated in a ten video exhibit at Lamar Dodd School of Art at University of Georgia, curated by Forest Kelley. Notes of a J.I.R., an excerpt of which you can find below, was a diary of daily reports I jotted down during or after each outing.


by Chase Porter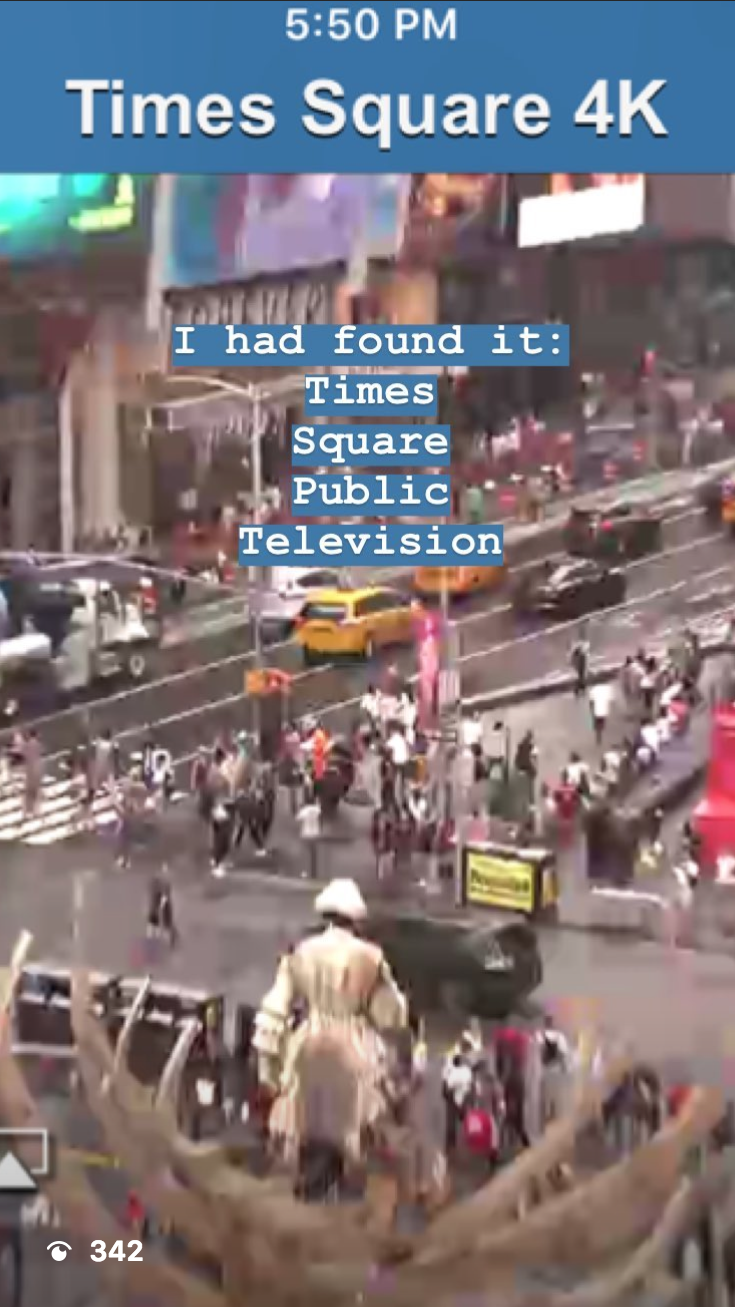 Earthcam Greeting Ritual


************************************************************************************************************************
Notes of a J.I.R. (Jennifer in Residence)
Tue Aug 14 2018
9:30pm-11:50pm
Went back to my new favorite diner, Applejack Restaurant. I asked for cake. He asked what kind. I settled for Coconut Lemon (a fresh, beautiful cake, not yet cut). I watched him slice it. It was a sweet cake. Fit for a wedding. When I paid at the counter I asked, What does it take to get your picture on the wall here? The place is lined with framed 8x10 headshots of mostly unknown actors.
"You want a picture? You bring a picture, we will hang it."
"Ok, I will."
"You know Jackie Mason?" (I pretended to agree) "He's here, outside right now. Nice guy. You want me to introduce you?"
"Let me gather my things," I said, and headed to the restroom, where I googled Jackie Mason.
An ancient comedian. Born 1931. #63 Best Comic according to Comedy Central.
I walked back out and found the host surrounded by a new set of guests wanting a seat at his restaurant.
"See you next time," I said.
"Bring your picture!"
On my way out, I turned to look at the outside patio— where was Jackie Mason?— and sure enough, a group of five or six middle aged New Yorkers were circled round an old man with taut, paper-thin, facelifted skin and garishly dyed red hair. As I raised my hand to adjust my hat, I inadvertently caught the eye of one of Jackie's cohorts. The man looked at me, and waved hello, like he knew me. And at this point, that is my goal.

************************************************************************************************************************


by Chase Porter
Jennifer en Plein Square, Lamar Dodd School of Art
︎ Times Square Transmissions: The Lot Radio
Jennifer Intervention on a Brooklyn-based radio station during its residency inside a vacant storefront in Times Square.
Broadcast live during a set by DJ Voices and Unscented DJ on thelotradio.com webcam


︎ Spying on Jennifer

Photographed by Ashley Boman
Assisted by Emma Rogers
2019
︎ Wish You Were Jennifer
Photographs by Ashley Boman
Postcards designed by Becca Kauffman
2019