︎ JVL@b / Jennifer Vanilla: Live at the Bar
Experimental Performance Laboratory
Producer, Director, Public Relations, Host
The Windjammer Bar
Ridgewood, Queens
2017-2018, every month


JVL@b brought together contemporary performance artists, poets, musicians, and comedians to participate in themed, one-time-only jennifer-tinged experiments within the setting of my neighborhood bar.

From 2017-2018, I spent most of my time coming up with enticing ways to get people to come to my show, Jennifer Vanilla: Live at the Bar. The most important thing about this event was that people were there. It was my job to make sure of it, and thus to make the show as appealing as possible. This is why it started as a highly improvisational variety show (who had the time to plan the show with all that promoting?), then morphed into larger scale devised theater pieces starring the show's guests. JVL@b called itself an incubator of the avatarial arts. I don't know if it functioned that way for everyone else, but it was definitely where I practiced the art of my avatar, Jennifer Vanilla.

JVL@b was filmed live for broadcast on Queens Public Television for The Jennifer Vanilla Hour. Clarke Blackham shot almost all of them (an audience member from the first show, he volunteered to hold the camera and never let go).


︎ Show Gallery



︎ Flyer Gallery
Paper flyers posted in local businesses and distributed at nightlife events around NYC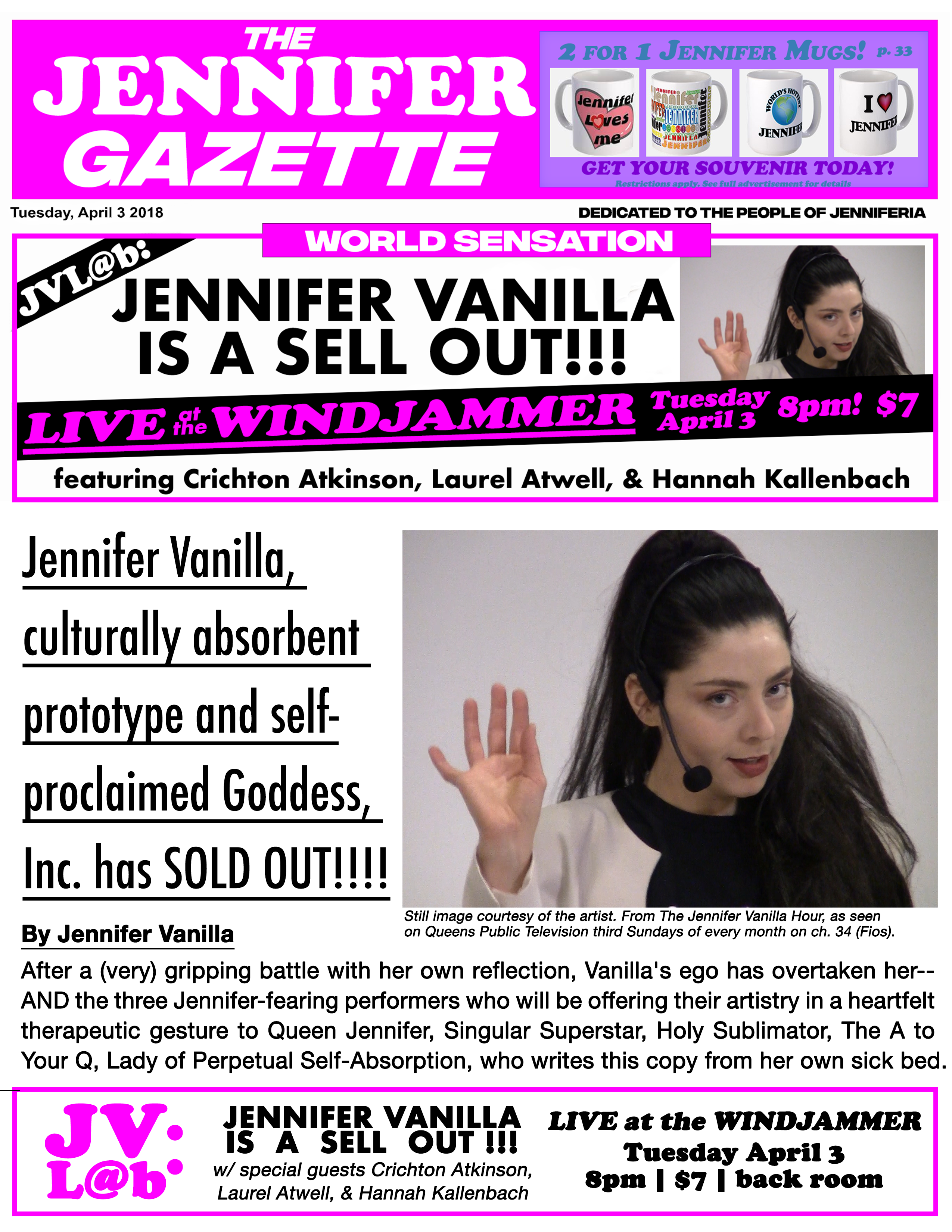 Jennifer Vanilla is a Sell Out!
A tabloid saga chronicling Jennifer's ego overdose and subsequent journey to recovery. Featuring Crichton Atkinson, Laurel Atwell, and Jessica Cook.
Group Jennifer
A massive participatory group therapy session led by a phony psychologist, played by Alex Schmidt. Featuring Alex Tatarsky, Dawn Lombardi, Linda Felcher.
Being Jennifer Vanilla
A jenniferized adaptation of the movie Being John Malkovich. Featuring Lily Marotta and Alex Schmidt, Iain MacNeill, S the Supplicant, Elsa Brown, Nat Brower, Sam Regal, and DJ Voices.
The Premiere Jennifer Event
Jennifer hosts local talent from her bonafide Host Desk in this late night talk show. Featuring comedy trio Sisters Weekend, performance artist Anya Liftig, and musical group by Dey.
Design concept borrowed from a found ballroom dancing flyer
Everything's Coming Up Jennifers
A vaudeville club housing a cast of melodramatic Broadway archetypes. Featuring Peter Smith, Jennifer Sullivan, Jen Goma, Teeny Lieberson, Natalie Casagran Lopez, Sam Regal.
Jennifer! Alive With Pleasure
A showcase in-the-round with Jennifer at the central control panel, culminating in a haircut given to her by the audience, one snip at a time. Featuring Sophia Cleary, Sarah Squirm, Ellie Macinnes, Lambda Celsius.